To provide a picture complete so as possible, and hi adhering to the reality of migration referring to Rivisondoli, we use disparate sources, which is still the highest level of reliability and accuracy.
Of course we went to the cross-check for each individual positions in order to provide to the interested visitor potential starting point, based on evidence, for any personal insights or research that goes beyond the popular and general character of our website.
We confirm our full readiness to share the information we have, with those who wish to deepen the research on the subject.
In the tables that follow, we have grouped by calendar year the names of Rivisondolesi emigrants , for which we had the certainty of an address in the U.S.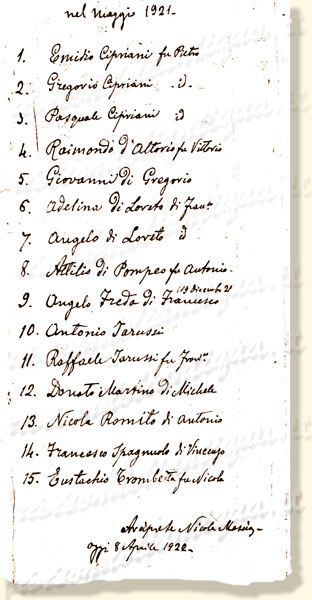 The manuscript that appears here on the left, stems from April 1922, and was drafted by the parish priest of the time, the fellow Archpriest don Nicola Mascio, in accounts of the offers received from emigrants of Rivisondoli, and devoted to the works necessary for the continuous completion of the Mother Church of S. Nicola.
The total amounted to Lire 13,750.00 and noted Archpriest diligently the individual that the promoter of the collection, Gregorio Cipriani, was delivered on 19 December 1921 by the father-in-law Nicola Romito. This evidently made several trips between the two sides of Atlantic, and he made a new Delivery of 47.00 Lire on April 8, 1922.
We report full annotation of the parish priest, which summarizes the total amount, by defining "nicely" the fellow emigrants:
Introito
Dagli Americani L. 13.750,00
Conteggiato 31 Ottobre 1924
Perhaps it was by reading these notes that Mons. don Antonio CICCARELLI drew inspiration for the journey that conceived and carried out in the United States of America in late 1927 and early 1928.
And it is precisely the issues of the Bollettino Parrocchiale we have extrapolated the following tables, where the Rivisondolesi emigrants in the U.S. are grouped by city of residence.